What Is Agarwood Green Tea?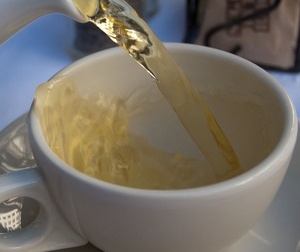 No doubt you've never heard of Agarwood Green Tea before. We only came across it ourselves by accident about 3 years ago. Perhaps you can imagine our surprise when you consider we'd been growing it for 5 years already. We discovered the 'tea' aspect of the tree at a trade fair, where, amongst many arts and crafts exhibits, a 'Krissana' tea stall caught our attention. Krissana is the local name for the Aquilaria species, which is otherwise known as Agarwood. In fact, it is known by many different names thoughout Asia. The stall was showcasing a 12 tea bag pack that, designed for the Japanese market and was selling for about $20. In Japan it is known as 'Jinko'.
We offer a tea that is harvested to your specific order. The leaves are selected, washed, hand chopped, dried in a dehumidifier, and, finally, lightly toasted for a couple of minutes. A pinch or two placed into a teapot and steeped in boiling water for 5 to 10 minutes is all that is required. The result is a refreshing mild flavoured tea with a light chardonnay colour.